Note: this was written in early March- I have no idea why I didn't post it! Anyway- I'm posting it now while I write new stuff. Hopefully I'll have a bunch to share with you in the next few months.
It has been FOREVER. I haven't written in, what, almost three months? Wow, time really does fly when you're caught up with schoolwork. But I have really, really missed blogging.
So, the Oscars were last week! I was thrilled with this year's winners: I haven't seen
12 Years A Slave
but from what I have heard, it is a fantastic, touching film that truly deserved to walk away with the top honours. From the clips that I have seen, Lupita Nyong'o fully deserved the Best Supporting Actress award (
and how amazing was that speech?
). I haven't seen
Dallas Buyers Club,
but I have that Jared Leto and Matthew McConaughey both gave the performances of their lives and completely deserved to walk away with that golden statue. And of course, Cate Blanchett was phenomenal in
Blue Jasmine
, truly earning her second best actress Oscar.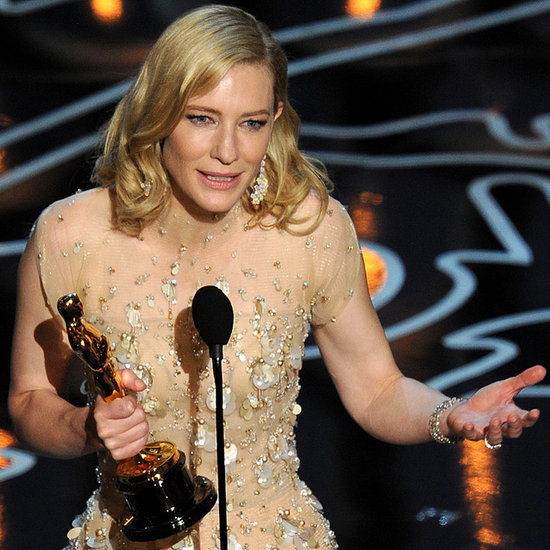 Since the awards, Blanchett's speech has been a topic of great controversy. When accepting the Oscar, she criticized Hollywood's myopic approach to women in lead roles. And I quote...
"To those in the [film] industry who are perhaps foolishly clinging to the idea that female films with women in the centre are niche experiences, they are not. Audiences want to see them, and in fact, they earn money. The world is round, people!"
However, this decision to use her time on stage to do something positive has been overshadowed by the fact that she thanked Woody Allen in her speech. This comes after accusations by Allen's step-daughter, Dylan Farrow, that he is guilty of child molestation. Many are crying out against Blanchett's decision to thank Allen, stating that it undermines her message of feminism in her speech. They are saying that she didn't, in fact, need to thank Allen- something I disagree with. After all, he did write, direct and cast Blanchett in the film and without him, she wouldn't exactly be standing there. Blanchett did not offer an opinion on the topic- she merely thanked him for his role in her win, nothing more or nothing less.
So instead of focusing on a single line in Blanchett's speech, I think we should instead focus on the full three minutes. She did not have to acknowledge each of her fellow nominees individually, highlighting each of their performances and careers. Yet she did, and brought attention to the fact that it has been a wonderful year of quality female performances. She shone the spotlight on the women in the film industry, something that is not done enough. After all, Hollywood does have gender bias; actresses are often not paid as much as actors and their performances and roles are trivialised. Blanchett did something unprecedented and extremely positive, and we must give her the credit for that.
PS:
Let's not forget when she called out the "Glam Cam" at the Screen Actors Guild awards. You go Cate. All the awards to you Cate.